A family-owned truckload carrier, Baylor Trucking, is celebrating its seventy-fifth anniversary by honoring its collective of truck drivers.
In recognition of their professional truck drivers, Baylor is using National Truck Driver Appreciation Week to reward their fleet. The company allows drivers to stay two nights at a hotel. From there it's where they'll travel a short distance to the Baylor headquarters. The headquarters is in the heart of Milan, Indiana.
This celebration is a big to-do. At the VIP event, on Saturday, September 19th, amenities involve a meal, cakes, champagne, entertainment and personalized masks (for protection.) All drivers will have their names entered in a raffle. However, gifts are also available for the truckers to take home.
Their goal is to honor and thank the truckers that have made logistics as strong as it is today. Some trucks, in recognition of the celebration, have premium exterior and interior specifications that really boost up the quality.
Baylor Trucking had its start after World War II by veteran Chester Baylor. After mobilizing only one truck and a cargo full of dreams, Baylor soon grew his small-business into an empire. Nowadays, the fleet has over three-hundred in it's possession.
As a means of promoting their community outreach, they will continue their seventy-fifth anniversary celebration through all of 2021. Seventy-five acts of kindness are for the benefit of their local area community.
Baylor Trucking Is Not the Only One Celebrating
Throughout all of National Truck Driver Appreciation Week, companies around the trucking industry are celebrating their hard-workers.
For instance, Bendix thanks their trucking men and women for "invaluable and essential work." They love the commitment these truckers had with their dedicated drive for the industry. Especially during the COVID-19 outbreak, their hard-work is valuable more now than ever.
Werner Logistics was also invested in thanking their professional trucker drivers.
As for Kenworth Truck Company, they're showing so much appreciation, they're posting pictures about it!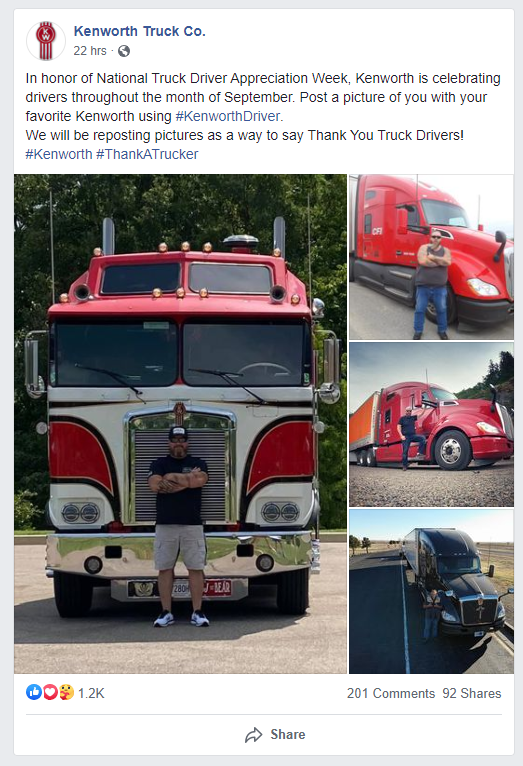 In conclusion, the trucking industry is one of the few in the United States that actually genuinely thanks their employees. We at Orlando Car Transport recognize this, and we make sure our employees feel the love, too!