Open Car Transport
Open car transport accounts for the majority of our shipments. The ease of use and exceptionally affordable pricing attracts most car shipping clients. With open car transport, a carrier loads your vehicle onto an open air trailer without walls. The simplicity to the rig and its ability to load more vehicles accounts for the cheaper price. However, none of that means a less safe transport option. It remains an entirely secure method of shipping your vehicle, especially when conducted by our expert professionals.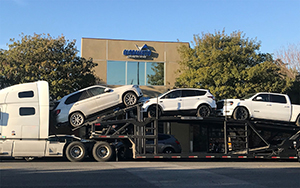 Though, there are a few different ways to complete open car transport. In addition to a normal, multi-car open trailer, we offer hot shot shipping. Furthermore, at Orlando Car Transport, we offer discounts for shipping multiple cars, or reserving a full load.
Hot Shot:
This method loads your vehicle onto a small open trailer designed to transport a single car. Typically, these are hooked up to a single or dually (four rear tires) truck. Then, the driver leaves your chosen pick up location and makes a direct delivery straight to your destination. This option offers a couple of great benefits. For one, it includes automatic expedited shipping, given the fact the driver makes no other stops. Additionally, hot shot shipping is a great way to ship specialty cars, like exotic or rare vehicles as it provides added security.
Multiple Cars:
Sometimes you need to ship a bunch of cars simultaneously. We have the ability to arrange these more complicated orders. Our carriers load all vehicles at once and still ship directly to your chosen destination. However, taking more spaces on the trailer reduces the number of additional stops, saving you time. Furthermore, since we appreciate your additional business, your quoted price drops per vehicle. Save hundreds by shipping together!
Full Load:
If you have enough cars to merit an entire trailer, we make those arrangements, as well. And again, reserving an entire trailer comes with financial perks. Since the entire trailer is dedicated to your shipment, there are no other stops, and the travel time reduces. This option often works for corporate relocations, or moving company vehicles between branches or stores. We understand the complications involved in the transfer of fleet vehicles between locations, as we work with many corporate clients. Save on your shipping costs by reserving a full load.
All these options come with our exceptional customer service and prices, set competitively to ensure your satisfaction. Our open car transport remains the safest, most affordable auto shipping option in the United States. Ship anywhere within all 50 states, door to door.
Give us a call at (321) 320-7800 for a free quote, have any question answered, and schedule your auto shipping today!